Acorns Class Update March 2023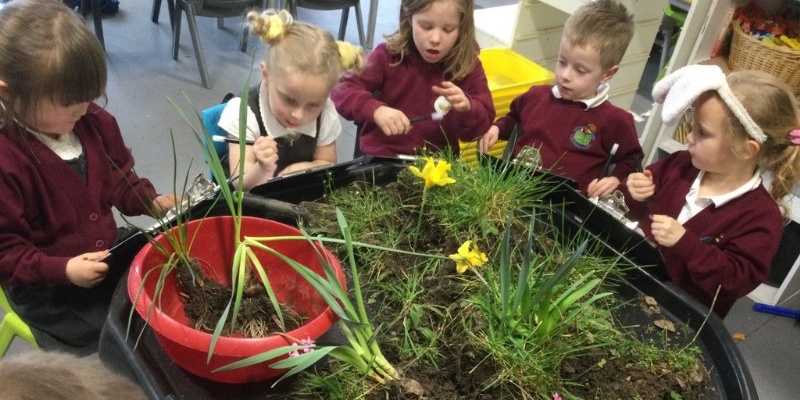 We have been busy spotting signs of Spring in Acorns! Spring flowers are popping up in our outside space and adding some colour to our garden. We have been Scientists learning all about the life cycle of a daffodil from bulb to flower and looking carefully at the parts of the plant. We have also been Artists making careful observational drawings, looking carefully at the shapes of parts of the plant, how they join together and how big each bit is in relation to each other to make sure our drawings look like the real thing.
We are looking forward to trips to Hakeford Woods to explore the natural world further and we are also visiting Quince Honey Farm to learn all about bee keeping. Next half term we are going 'Mad About Minibeasts' learning about healthy food choices from the Very Hungry Caterpillar and throwing some funky shapes on the dance floor at our celebratory Ugly bug Ball. We have helped Mel prepare salad for school dinners this half term, cooked pancakes and Easter nest cakes, next half term we will plan and prepare an Ugly Bug Ball party banquet.
We are reading experts in Reception and have perfected the skill of 'chunking and blending' longer words like 'popcorn' and 'shimmer'. We practice writing our own sentences and are all working hard on remembering finger spaces in between our words. We are also speedy subitisers so can work out how many there are in an amount without counting straight away. We practice the speedy recall of pairs of numbers that make totals to ten and use actions to support our understanding of Maths language and concepts like more, less, equal, tall, short, heavy and light.
We all agree that in Acorns our 'brains are massive' and growing every day!